New Building Project
New Building Project
Special Edition: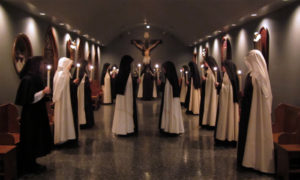 ---
Dear Friends,
"I took for my patron the glorious St. Joseph and recommended myself earnestly to him… I cannot call to mind that I have ever asked him at any time for anything which he has not granted; and I am filled with amazement when I consider the great favors which God has given me through this blessed Saint; the dangers from which he has delivered me, both of body and of soul." – St. Teresa of Avila
We need your help to help you! Young vocations, whose only desire is to give themselves to God in a life of prayer and sacrifice for you and countless other souls, face the possibility of being turned away for no other reason than for lack of space. The world needs these vocations! We are begging your financial assistance to build on to our Monastery.
With war looming and an unsettled, drooping economy, perhaps these are bad days for us to be asking for even a penny from anyone! Still, in another sense, in a spiritual sense, maybe these are the best days to be asking for alms. How many of us look at world events and the matters of our own personal lives, only to feel how greatly we need God and His merciful help?
Several weeks ago, we were shocked to hear that the estimated cost for what we have been planning to build is $400,000! And this is after we have eliminated many of our first hopes for the addition. Our plans include nothing elaborate. It is a 37 ft. x 40 ft., three-floor extension, with a 10 ft. walkway to connect the buildings. This new space will provide us with additional monastic cells, a much-needed larger kitchen and refectory (dining room), and a Chapter Room; workrooms, including a larger sewing room for the great amount of sewing we do: vestments, altar linens, religious habits for four communities; and a library. Other costs include a furnace and a new septic field.
It might help you to better understand our need if we tell you that we had to empty the small old library to make room for our new Korean Sister. Where could we put the books? Eight large sets of bookshelves are now in our upstairs hallway! About nine young women are now seriously contemplating the Carmelite vocation to our Monastery. One we have already accepted, but cannot give her a certain entrance date. Another feels strongly that she will be ready by April, if accepted. Of course, we must delay her vocation until we have room. The heartbreak of having to wait to enter is most difficult. As you can see, our need is immediate!
Thanks to the fatherly help of St. Joseph and the generosity of many of you who have already contributed to this project, we are happy to tell you that we have almost reached the half-way mark of $200,000.
So here we are, in the midst of the season of Lent, begging for another $200,000! Lent is the Church's time of penance, and the Church tells us we can satisfy our need for penance through prayer, fasting and almsgiving. Please make our Carmel the grateful recipient of your Lenten alms!
"Hide your alms in the breast of the poor, and the alms itself will pray to the Lord for you…" ~Ecclesiasticus
You and your loved ones are always in our prayers.
In Christ,
Your Carmelite Sisters
Please send your donation to:
Carmelite Monastery
8540 Kenosha Drive
Colorado Springs, CO 80908
Please help us by forwarding this newsletter on to others you think may be interested in assisting us. Thank you!