The Law of Praying is the Law of Believing
The Law of Praying is the Law of Believing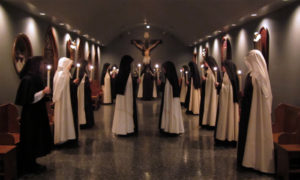 In This Edition :
Advent
Christmas Gifts
Community News
---
"Understand, for it is now the hour for us to rise from sleep, because now our salvation is nearer than when we came to believe."
– Epistle 1st Sunday of Advent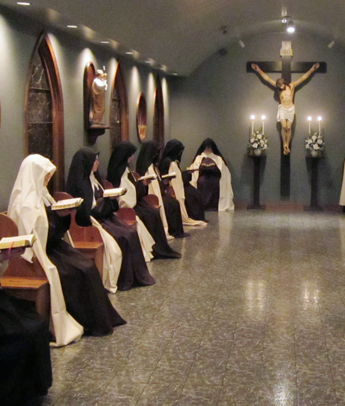 Dear Friends of Carmel,
Lex orandi, lex credendi. Perhaps many of you have heard this Latin phrase. It is a phrase most often used in reference to liturgical worship, meaning "the law of praying is the law of believing". This principle has for centuries created, established and built up the beautiful structure of our Catholic liturgy, our worship of God, ever strengthening our faith in all that God teaches and commands. The liturgy, as Saints and Doctors of the Church so often instruct, is the most fruitful source for individual spiritual life, personal prayer and progress in our union with God. In Catholic life, one liturgical season leads to the next in an orderly logic that finds prayer simple and sensible – and so very interesting! Yes, the truths, history, ideas and lessons brought before us with each passing liturgical season are truly captivating and engaging – as well they should be, if we have our hearts set on God and on our journey to possess Him. This is vividly brought before us at this time of year, as we end the liturgical year and begin another. November keeps a prayerful vigil for the Holy Souls, and we are urged by our very prayers for these waiting, suffering souls, to reflect on the life they live in God and our firm belief in His merciful design that is purifying them for Heaven. Their longing for the final possession and sight of their beloved Father, as well as our own charitable yearning for them to reach their happy destiny, finds an echo in this coming season of Advent. For Advent is a time of preparation and, indeed, of prayerful longing for the coming of Our Savior.
Advent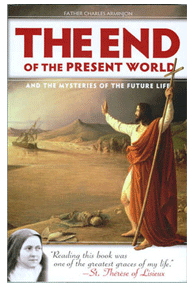 Although during Advent we prepare for the Feast of the Lord's Nativity, when with "comfort and joy" we celebrate the great beginning of our salvation, it is His Final Coming for which all hearts yearn. For in that day, the "day of salvation", all the purposes and plans of God's loving Providence will be completed. The Scriptural texts of the Advent liturgy express all of this, and those who truly pray the liturgy and make it their own personal prayer each day, are drawn into the spirit of the Church. Here are just a very few scattered passages to illustrate this twofold preparation and yearning of Advent:

"To You I have lifted up my soul, O my God; in You I place my trust…Make known Your ways to me, teach me Your paths…" (Psalm 24:1,4)
"There will be signs in the sun and moon and stars, and upon the earth distress of nations bewildered…And then will they see the "Son of Man coming… with great power and majesty. But when these things begin to come to pass, look up, lift up your heads, because your redemption is at hand…" (Luke 21)
"The Lord shall come to save the nations, and the Lord shall make heard the glory of His voice in the joy of your heart." (Isaias 30:30)
"Rejoice in the Lord always; again I say rejoice… The Lord is near. Have no anxiety…" Philippians (4:4-7)
"I am the voice of one crying in the desert, "Make straight the way of the Lord,' as said Isaias the prophet." (John 1:23)
"Behold, our God will render justice; He himself will come and will save us." (Isaias 35:4)
"Therefore, pass no judgment before the time, until the Lord comes, who will both bring to light the things hidden in darkness and make manifest the counsels of hearts…" (1 Corinthians 4:5)
And on Christmas Day itself: "…that we may live temperately and justly and piously in this world, looking for the blessed hope and glorious coming of our great God and Savior, Jesus Christ." (Titus 2:15)
Leading to Christmas and Judgment
We can see from these enlightening passages that Christmas "is only the beginning" and that our Advent vigil of four weeks lends itself to a time of prayer, penance and the peaceful contemplation of that terrible but great and holy day – God alone knows when that day will arrive – of Judgment and completion – God's accomplishment of all His loving design for the souls He loves. Christmas Eve's prayer at Holy Mass cries out with confidence to our Heavenly Father, "O God, who gladden us by the annual expectation of our redemption, grant that we who now joyfully welcome Your Only-begotten Son as our Redeemer, may also, without fear, behold Him coming as our Judge, Our Lord Jesus Christ…"
Read more about Advent and its spirit in our Doctrines and Devotions, as well as in our Newsletter Archives, especially November, 2010, where we discuss at some length thoughts of the end of time and the captivating book, The End of the Present World and the Mysteries of the Future Life. This book is excellent Advent reading, and goes hand-in-hand with the Scriptures referred to above for the observance and prayer of Advent. The newsletter from December 2011, "Advent and the Angelus", offers another plan for spending Advent prayerfully and fruitfully.
Let us, then, with these thoughts, pray as we believe – and live as we pray and believe!
Website News
Christmas Ornaments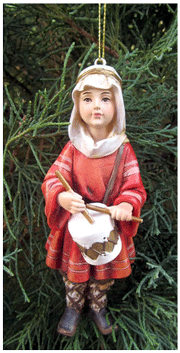 With Christmas on its way, we were happy to add some new Christmas ornaments to our website. It has been some years since we have been able to offer what we consider more traditional, "quality" ornaments that reflect the true "Reason for the Season". Among these are the wood-carved Christmas Angels and Snowflake Ornaments from our artists in Italy. These come from the mountainous, German-speaking region of Italy, and the Angels are quite reminiscent of the treasured Hummel figurines from the past. We had to do some research for another of the ornaments, based on the demand for a Little Drummer Boy decoration we offered some years ago. Back then, we stood in amazement at how popular that little ornament became. The one we found this year is just a charming, but a bit larger than the other. Though certainly not a Biblical character of the Nativity narratives, the simple shepherd boy's whole-hearted gift to the Christ Child, as told in the delightful Christmas song, does have a pleasing and worthy message… Please see our complete selection of special ornaments. Other new seasonal offerings include new Christmas puzzles, a new Nativity Sacred Suncatcher and several beautifully crafted Devotional Rings. All of these make unique and perfect gifts for Christmas. As always, a woodcarved Nativity set makes the ideal gift at this time of year, especially for young families and for engaged couples. And more Nativity figures can be added year after year to create a fine family Christmas custom of one or two each year.
Rosary Gifts for Christmas
For those of you who are planning to give a special rosary or chaplet at Christmas, we urge you to order sooner rather than later! We need a few weeks lead time to obtain any special parts; as well, some of the more popular beads go in and out of stock quickly at this time of year. All of these factors encourage us to introduce something new this Christmas season – something we almost hate to do, but feel we must: a "Deadline," or cut-off date, after which we cannot guarantee that rosaries will arrive before Christmas. This date will be December 8th. We will, of course, do the best we can for orders that come in after that day, but the sooner you order the more likely you are to get it under your tree!
Books as Gifts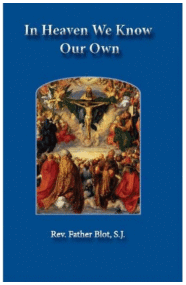 Continuing in our tradition of offering you selections for good spiritual reading, we recommend a few titles, old and new. In addition to good Advent and Christmas books, we want to give special mention to a number of new books on our site. The first is In Heaven We Know Our Own. It is an exceptionally moving book for all, but would make the perfect thoughtful gift for friends or family who may have lost loved ones in the past year. Other consoling and enlightening books are Roses Among Thorns and When God Is Silent. A new St. Therese book has just been published and promises to become a standard reference for learning about this "Greatest Saint of modern times." As well, a superb Carmelite book, a favorite of our Community and recently back in print is Light Love Life: Blessed Elizabeth of the Trinity. Books that make wonderful gifts for the family may be chosen from our selection of prayer books – that promote prayer in the family and each of its members.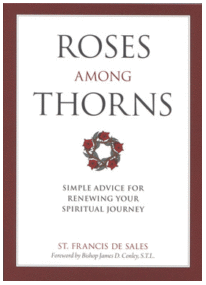 Considering that it is the beginning of the new Liturgical year, you may want to look at some of the new books we have on the Liturgy and the Mass. We were also pleased to find a compact edition of the timeless classic Butler's Lives of the Saints. Along with the original texts, this edition includes entries for some of the more recent Saints. We have also consolidated all of the small booklets we offer into one section so that they are easy to find. Full of doctrine, these small but very informative booklets would make great stocking stuffers!
Spiritual reading is not only for adults. How beneficial it is for children to have the doctrines they are taught in Catechism class and at Church re-presented to them through books and pictures. If you are looking for a good Christmas gift for children, you might consider taking a look at some of these titles. Some of these books you may even remember from your own childhood, such as The ABC's of the Church, which was so popular in 1938 that it was later re-printed 5 times. One more old-time title now available again is The Illustrated Bible Story Book with wonderful illustrations for the young, impressionable mind. There is a beautiful children's edition of the popular booklet Garment of Grace. We were also pleased to find some new coloring and activity books and continue to offer the excellent books for Christmas reading, Stories of the Child Jesus from Many Lands and The Christmas Story Book. Among the new children's books is another "alphabet" type book, To See the Little Jesus. Both children and adults will find fascinating and enjoyable Religious Customs in the Family by Father Weiser.
---
Community News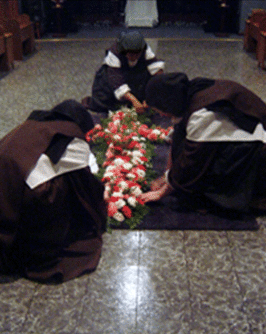 We told you in our last letter of the upcoming Final Profession of one of our young Sisters here in Carmel. The beautiful day was celebrated November 9th with the Final Profession ceremony in early morning. In the silence of our chapel, after our Mother Prioress gave a moving exhortation to Sister, we witnessed her pronounce her great promise to God, all of us especially attentive to the dearly loved words for Carmelites: "Until death". In those words, the victory of God in a soul is wonderfully revealed: God's victory that makes us His forever; a victory over the world's attractions, pursuits and ambitions, which so often scoop up young people and take them far from God.
Receiving the Black Veil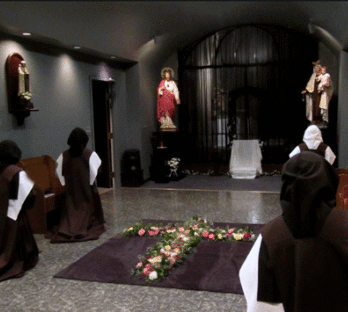 The Veiling Ceremony followed Mass later that morning. Some of you wrote asking us to share more about these ceremonies, along with a few photos. In these days, when the Religious Habit is not as commonly worn or seen, a question people may have is, "What is the significance of the black veil of the Carmelite religious?" Interestingly enough, historically, it was not virgins who wore veils, but married women. The Catholic Encyclopedia mentions that in ancient Rome, a veil distinguished married women from the unmarried. From the earliest times Christ was represented to the Christian virgin as a husband, the only One she had to please, according to St. Paul (1 Corinthians 7:34). It was natural that the bride of Christ should adopt the veil, which thus symbolized not so much the purity as the inviolable fidelity to Christ which was to be reverenced in her. The taking of the veil then suggested an obligation of constancy. The prayer for the Blessing of the Veil, specifying the holy vows that precede its reception, reveals more of the noble aspects of this sign of consecration:

O Lord Jesus Christ, author of all virtues and lover of those doing penance, who with the other virtues especially chose in the world humility, obedience, chastity and poverty, and came to call sinners to do penance; we earnestly beseech Your unspeakable mercy that You would vouchsafe to sanctify and bless this veil, and favorably grant that Your handmaid, who is hereafter to wear it as the mark of a holy conversation, may be able to appear in the day of judgment in the glorified company of the Saints, in white and unspotted raiment, before Your tribunal, Who live and reign, world without end. Amen.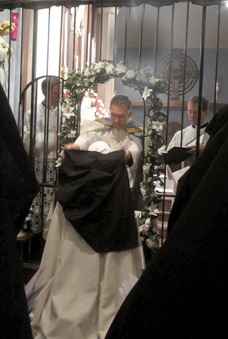 In the Veiling Ceremony, just before receiving the veil, Sister sings: "Accept me, Lord, according to Your word, and I shall live; and do not confound me in my hope." (Ps.118) The celebrant who is to give the veil then says, "Receive the sacred veil, the symbol of modesty and reverence; and may you so ever carry it to the tribunal of Our Lord Jesus Christ, that you may possess life everlasting and may live forever…" And after receiving the veil, Sister chants, "He has placed a sign on my face. And except Him I will have no lover."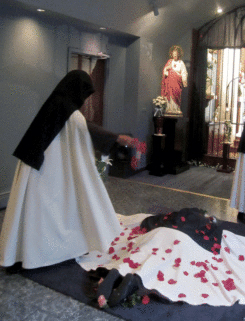 So renouncement of the world's attractions and of her own past sins, of her will and of any selfish "agenda"; humble admission of one's own weakness and inability to live justly; gratitude for God's mercy; desire to converse with God alone; expectation of a merciful judgment and anticipation of the happiness and purity of eternal life in Heaven – all of this does the holy veil represent. The black of the veil does indeed represent death: death to the world – but be most assured – vibrant life to God and His interests. This last public ceremony for a Carmelite nun is followed by the customary reception in our "speakroom" or parlor. Guests, family members and all the people who attend Mass at our chapel came to see Sister at the grille – some meeting her for the first time – and seeing her for the last time! It is always a joy to feel the family spirit among these visitors, who all feel a tie to the Sister, knowing they will be in her earnest prayers and that of the entire Community always.

Vocation to Carmel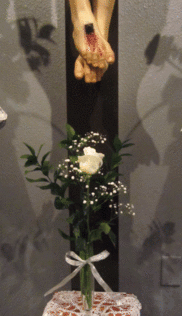 We sometimes receive requests to share vocation stories from the Sisters. As we have explained in past newsletters, our enclosure and the hidden life of Carmel prevent us from sharing individual stories. But we can share a few details with you about our Sisters here. They come from a variety of backgrounds, from all different parts of the country, and even as far away as England. Two among us are converts to the Catholic Faith. You will find in Carmel nurses, dieticians and business managers, city dwellers and country girls, mathematicians and artists….our interests and occupations in the world were as different and unique as the individual call or vocation that we, at some point or another, discovered in our lives. But what is invariable for each of us was the hand of God and the protection of the Blessed Mother of Carmel ever present, pointing our lives to this one beautiful end and purpose.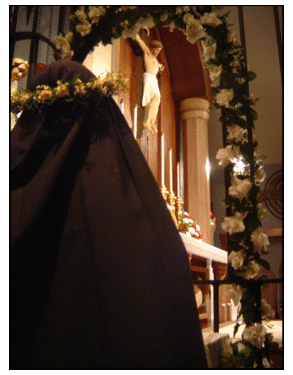 What is it that has brought us all together under one roof – and keeps us here? Despite our different temperaments and characters, we all share one ultimate goal – union with Our Lord Jesus Christ. In the community life of Carmel, all preferences fall aside, as we strive with one heart and mind after this one goal and its good fruit: the glory of God and the salvation of souls. We encourage one another, inspire one another, aid one another in the steep climb to the top of Mount Carmel. How fitting it is that in the Veiling Ceremony, which marks the acceptance of the novice into our community forever, we chant the final words with the hymn, "Ecce Quam Bonum" (Ps. 132): "How good it is, and how pleasant, where brethren dwell as one."

Thank you all for your interest and support. Please be assured of our prayers for you during the upcoming Advent Season.

In Our Lord and Our Lady,

Your Carmelite Sisters
---
HELP US CONTINUE OUR LIFE OF PRAYER AND SACRIFICE