New Liturgical Year
New Liturgical Year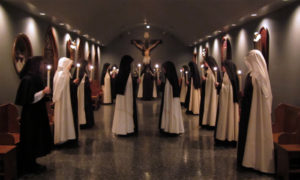 In this Edition:
New Liturgical Year
Website News – Gifts!
Community News
Our New Addition – It's Done!
---
Greetings to the Friends of Carmel,
As we begin again a new liturgical year, we reflect on the many graces and blessings of the past year and look forward to God's powerful working in souls and in the world during the coming year. Since it really is the Church's New Year, it is good now to make New Years Resolutions, almost more than waiting until the secular New Year. Needless to say, these would be spiritual resolutions; ones that make us more attentive to God's presence in our lives and to His Will for us. May the New Year, beginning with Holy Advent, bring us all closer to the good God and find us preparing with hope and peace for Our Lord's Coming!
WEBSITE NEWS – GIFTS
Gradually, we are adding to our site the items we have so long been planning and promising.
Rosary bracelets make lovely gifts, and so many people have asked about them. The sterling silver rosebud Patron Saint bracelet, shown here, is exquisite and is crafted with all the care and artistic expertise of old. You will be amazed at the detail of the depictions on the back of each rose. Patron Saint Rosary centers are also now available when you build your own rosary on our website. What better and more personal a gift than a rosary with one's Patron Saint?
Our Relic Badges may now be purchased at a new lower price, and we have added some exquisite Christmas cards this year, at the request of many people looking for "un-commercial" type greeting cards to send. We have been told that it is difficult to find cards with the Holy Family or the Virgin and Child. You can find them here!
Since so many of you loved the Christmas holy card to add to your greetings last year, we are offering more of these. They make a meaningful little gift with your message, and maybe even a nice stocking-stuffer!
Christmas ornaments make such a fine gift this time of year. We are reminded of a custom that many of our families recall of giving and receiving a special ornament each year. As the years pass, these gifts became part of family tradition at Christmas, bringing back warm and happy memories of loved ones, and perhaps reminding the children of those relatives or friends who may have passed from this life. We are working hard to add new books on the site, so be watching for those.
The Salerni sterling silver art pieces continue to be a distinctive gift for any occasion, and all who have chosen from our selection have been very pleased to be able to give a spiritual gift that is so beautiful.
Thank you for your support of our web site apostolate, which is of such assistance to our livelihood in the Monastery.
COMMUNITY NEWS
November is always a favorite month in our Carmel. We love it because of its dedication by the Church to the special remembrance of the Holy Souls in Purgatory. The devoted prayers and sacrifices to assist these souls bring home to us in a vivid way the importance of striving zealously for God and holiness of life ourselves. Holy Mother Church instills charity among her members through devotion to assisting the Holy Souls, so dear to God. Although we are now in December, we encourage all to remember them in your prayers and good works throughout the entire year.
Family visits to the Sisters are rare, but always a time of grace for both Sister and family. Our Holy Mother St. Teresa insisted that these visits be of benefit especially to the ones who visit! The Saint, of course, had the spiritual benefit of souls in mind and encourages her daughters to keep the conversation and mirth with family as un-worldly as possible. However, on the "earthly" side of things, the families of the Sisters always seem not to want to be outdone, and they come with arms loaded and extended to the Community. The parents of one of our Sisters have a fruit and vegetable stand near their farm in Ohio. At October's end, they close the little business, load up whatever remains of their produce and other good things and travel to Colorado. The first or second week of November always sees them pouring out their treasures to Carmel: pumpkins, tomatoes, cheese, APPLES! There is nothing like Ohio apples, and they are a boon for us as we prepare for our Christmas Bakesale, since apple pies are the favorite of the people who attend Mass at our Chapel. Another family comes who is not Catholic. Their daughter is a convert, and though they cannot fully understand her decisions and the grace of God in her life, their love for her makes them give support and encouragement. These dear folks generously give to Carmel several times in the year, but especially around Thanksgiving – mindful of Carmel's needs and desiring to help in whatever way they can. May God generously reward such good hearts!
OUR NEW ADDITION – IT'S DONE!
Lastly, we again wish to thank all who have assisted us with this important building project over the last two years, which is now completely finished. Glad to have completed it and so grateful for God's help and protection through it, we now enjoy the fruits of our labors – and yours. May God reward you for your generous assistance.
Your Carmelite Sisters