The Immaculate Conception
The Immaculate Conception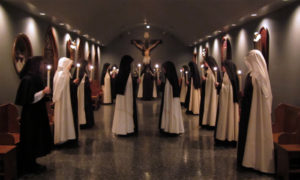 In this Edition:
Our Lady's Immaculate Conception
Community News
Website News
---
Dear Friends of Carmel,
As Advent proceeds and Christmas draws near, we wish to send our last greetings of 2005 to all the friends of Carmel. This week, in the midst of penitential Advent, Holy Mother Church gives us the benefit of celebrating the beautiful Feast of Our Lady's Immaculate Conception. Since many people sometimes confuse this privilege of Our Lady with the Virgin Birth of Our Lord, we present here the simple, but lofty dogma of our Catholic Faith. In the Constitution Ineffabilis Deus of December 8, 1854, Pius IX pronounced and defined that the Blessed Virgin Mary "in the first instance of her conception, by a singular privilege and grace granted by God, in view of the merits of Jesus Christ, the Savior of the human race, was preserved exempt from all stain of original sin." Let us thank God for this great privilege given to Our Blessed Mother, all in preparation for her bringing forth to the world its Savior, and let us together honor her with tender affection.
COMMUNITY NEWS
It has been another busy year for us, as you know, but also one filled with God's blessings. Please join us in thanking Him for these gifts of grace and progress, touching so many areas of our life, both spiritual and natural. On New Year's Eve, we will be spending the night in adoration before the Blessed Sacrament and ask you to unite with our prayer of thanksgiving, reparation and petition to our Eucharistic King.
Our new vocation is doing well, and we look forward to receiving another young lady sometime in 2006. We thank you all for your good prayers for vocations to Carmel!
The kitchen is always a busy place this time of year. These gifts of gratitude go, first, to our dear priests, then to doctors, nurses, dentists, web site administrators, mail lady and computer guy (whatever would we do without all these good people?). We bake up a storm and present gifts of sweet edibles. From what we hear, these gifts are well-received, and it gives the Sisters a chance to do a little fancy baking we would never do for ourselves.
The building of the enclosure wall moves forward. Very cold weather has kept the workers away for sometimes days at a time. But we are happy with their progress, and the project should be completed before the end of the year. We were most pleased that our masonry experts welcomed our request to set into the wall a beautiful, large image of St. Michael the Archangel. This great Guardian of Souls will perpetually stand watch at our gates, protecting Carmel!
WEBSITE NEWS
Friends have asked us to send out some kind of "Christmas shopping list" this month, since they know that they assist us by frequenting our gift web site. We hope it will of assistance to those of you who are still looking for unique spiritual gifts for family and friends.
Our newest relic badge will be ideal for Christmas giving because it has been touched to the holy crib of Bethlehem. Choose from two different pictures and several colors.
We are happy now to be offering matted prints in authentic illuminated manuscript. The prints, which have texts from Holy Scripture and revered sayings and prayers of the saints, are truly stunning artworks, hand-gilded in 23kt gold. We know these will make exquisite and unique spiritual gifts this Christmastime. A perfect gift for those devoted to St. Therese, the Little Flower, is the gilded print of her prayer, often called her Morning Offering.
Although it is getting quite late for rosary orders, with a little help from above, we can still get many of them to you in time for Christmas. Express Shipping is available and recommended. We might suggest rosary bracelets as well, which are proving to be one of the most popular gifts for women and girls.
If you're still needing Christmas cards, we have a nice selection available, including Christmas holy cards and bookmarks.
Other gift items: excellent books; patron saint medals; devotional rings; our polyphonic/Gregorian chant CD, In Paradisum; a fine selection of crucifixes; or, if you can't decide, you could give one of our gift certificates.
Please know of our grateful prayers for all of you who support our Carmel with your own prayers and gifts. May the Holy Infant with His loving Mother bless you this Christmas and in the New Year!
Your Carmelite Sisters